Inner Harbor
Honeywell is proud to have worked with the State of Maryland, Baltimore City, the U.S. Environmental Protection Agency, the Maryland Department of the Environment, H&S Properties Development Corporation, and Beatty Development in helping turn an extraordinary vision into a reality - Harbor Point. Located on the waterfront west of Fells Point, the site is the last substantive undeveloped stretch of land on Baltimore's Inner Harbor.
Phase 1 of Harbor Point includes the Thames Street Wharf office building, Baltimore headquarters for Morgan Stanley, which was the first building to open in 2010. Phase 1 also includes the Exelon Tower, which will house the headquarters for Exelon's Constellation business unit plus Exelon's trading floor.
Construction of the Exelon Tower was celebrated at a ceremony in late February 2015 that included; Baltimore City Mayor Stephanie Rawlings-Blake; federal, state, and local officials; Exelon's CEO, and Honeywell's Vice President of Global Real Estate. It was Honeywell's extensive environmental cleanup of the 27-acre site, under the supervision of federal and state environmental regulators, which paved the way for Harbor Point. The project demonstrates that former manufacturing sites can be reclaimed for productive use, resulting in new jobs and community opportunities.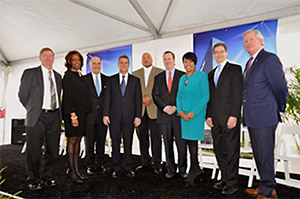 Mayor Rawlings-Blake and Michael Beatty join from left to right: Robert E. Greaves, Associate Director, Environmental Protection Agency (EPA); Sharon Pinder, Director, Baltimore Mayor's Office of Minority and Women-Owned Business Development; Michael Gill, Secretary of Maryland Department of Business & Economic Development; Honeywell's Rick Kriva; Barnett Carroll, President, Aegis Mechanical Corporation; Ben Grumbles, Acting Secretary, Maryland Department of the Environment (MDE); and Exelon President and CEO Chris Crane.
"Rising out of what was formerly a vacant, industrial brownfield; Harbor Point promises to be a vibrant and new transit-oriented and sustainable mixed-use development that provides a diversified mix of office, residential, and retail options for all city residents," said Baltimore City Mayor Stephanie Rawlings-Blake. "The City of Baltimore is experiencing a renaissance and Harbor Point is just one of many examples throughout the city of this new birth."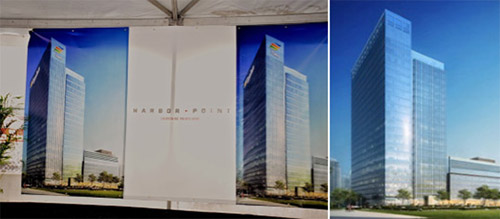 Rendering of the new Exelon Headquarters scheduled to be completed in 2016.
In addition to the Exelon and the Thames Street Wharf buildings, plans include office, retail, residential, parking and hotel space, as well as 9.5 acres of open green space and a public waterfront promenade. The estimated more than $1 billion project is expected to generate an estimated 7,175 construction jobs and 6,611 permanent jobs. (Source: Baltimore Development Corp., June 2013).
History
Beginning in 1845, the site at 1348 Block Street near historic Fells Point in Baltimore was home to a chrome ore processing and manufacturing facility owned and operated by the Mutual Chemical Company until 1954 when Mutual was acquired by Allied Chemical. In 1985 operations at the plant ceased.
The history of chrome ore processing on the site left many of the industrial buildings on the site contaminated with chromium. The soil and ground water under the site were also contaminated. Environmental studies conducted in the 1980s confirmed that chromium from the site was polluting the surrounding waters.
In 1989, the U.S. Environmental Protection Agency (EPA), the Maryland Department of the Environment (MDE) and AlliedSignal (Allied Chemical's successor company and Honeywell's predecessor) entered into a Consent Decree to clean up the site. The consent decree required a remedy that permanently contained potentially hazardous contamination within the site, eliminated human and animal contact with the contamination, and prevented further contamination of surrounding soils, surface and groundwater. Honeywell completed the project in 1999.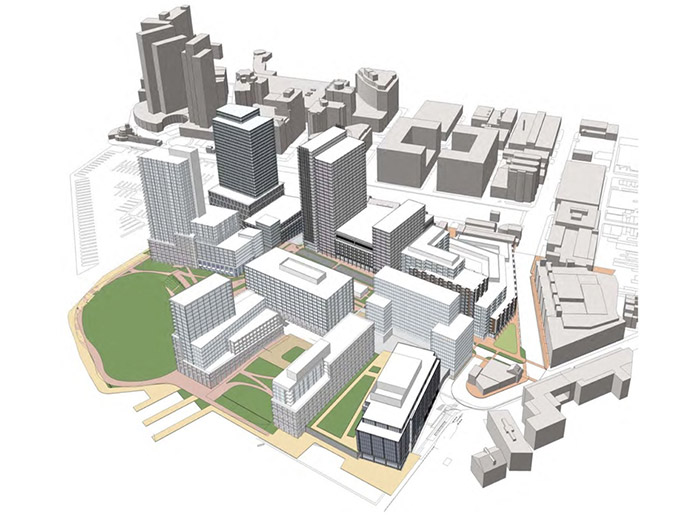 Rendering of Harbor Point
Honeywell engaged in consultation with area residents, city and state regulators, and private developers. The first Planned Urban Development (PUD) for the property was passed in 1993 while remediation was still underway. Mixed commercial, retail, residential and recreational uses are planned within the PUD.