Honeywell Hometown Solutions
Honeywell Hometown Solutions has deployed community initiatives in Baltimore that focus on the company's pillars of service: Science & Math Education, Housing & Shelter, Family Safety & Security, and Habitat & Conservation. Working in partnership with the Living Classrooms Foundation and the Maryland State Department of Education, Honeywell offers innovative programs that stimulate learning in science, math, and the environment. Honeywell Educators @ Space Academy gives teachers in Baltimore the opportunity to apply for scholarships to spend one week at the U.S. Space and Rocket Center in Huntsville, Alabama. We also have partnered with Rebuilding Together Baltimore to give families warmer and drier homes in the Turner Station and St. Helena communities, and supported programs that enhance the environment, including the Maryland Artificial Reef Initiative and the Baltimore Rowing Club.
Honeywell's Adventures in Environmental Leadership: A Living Classrooms Program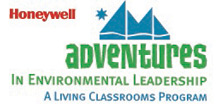 Fourth and fifth graders from Logan Elementary School have participated in Adventures in Environmental Leadership. This program is part of Living Classrooms Foundation's acclaimed environmental education program, School Leadership in Urban Runoff Reduction Project (SLURRP).
Students and teachers explored Baltimore's watershed and investigating how their actions on land affect streams, creeks, rivers and ultimately the Chesapeake Bay.
Rebuilding Together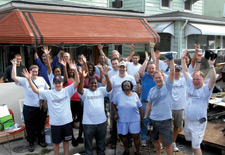 In 2017, Honeywell marked the fifth year of Baltimore Rebuilding Together projects in historic Turner Station, Dundalk, Maryland. Honeywell volunteers have worked on 27 houses and planted hundreds of flowers, trees and shrubs to spruce up the community. In 2017, Honeywell also sponsored much needed roofing repairs for eight homes and volunteers planted worked on community beautification projects.
Over the years more than 60 homes were made safer, and hundreds of flowers, plants, trees and shrubs were planted by the nearly 2000 Rebuilding Together volunteers.
In 2010, Honeywell volunteers took part in Rebuilding Together Day in St. Helena. Rebuilding Together Baltimore, St. Helena Community Organization, and St. Helena Neighborhood Association, with support from Honeywell Hometown Solutions, Baltimore County Office of Community Conservation, neighbors and volunteers from the Baltimore area improved the community center and helped homeowners repair and renovate their homes.
Honeywell Maryland Center for Ecosystems Education at Horn Point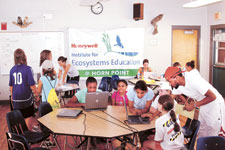 Gifted and talented students worked alongside scientists and teachers at the Honeywell Maryland Center for Ecosystems Education at Horn Point collecting and analyzing data to help better understand the Chesapeake Bay's natural resources. The program provided Maryland students with advanced, rigorous, and experimental learning opportunities to nurture their talents and abilities within unique learning environments. The students worked on projects to improve the Bay's health and conducted experiments in the Choptank River. Teachers worked with scientists to develop new science lesson plans for the coming school year. Seventeen teachers and 100 students participated in the two-week program.
FMA Live!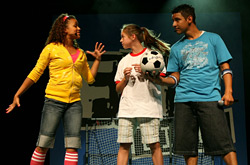 At the invitation of Congressman Elijah E. Cummings (D-MD 7th), Honeywell and NASA launched the fall 2007 tour of FMA Live!, our award-winning science concert for more than 3,000 Baltimore City and Baltimore County middle school students at Morgan State University and the Community College of Baltimore County, Dundalk campus. Named after Sir Isaac Newton's Second Law of Motion (force = mass x acceleration), FMA Live! uses professional actors, original songs, music videos and interactive science demonstrations to teach Newton's Three Laws of Motion and the Universal Law of Gravity.
Maryland Artificial Reef Initiative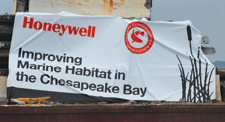 Life for fish, crabs, oysters, barnacles and other marine life in the Chesapeake Bay took a big step forward on August 23, 2007. On that day a Honeywell barge deposited more than 1,000 tons of concrete from the Woodrow Wilson Bridge into the bay just off Solomons Island to create a new reef, the Cedar Point Fish Haven. The concrete created a new marine habitat and help revive one of Maryland's most treasured resources. This marks the third reef created by the Maryland Artificial Reef Initiative, which was launched a year ago by the Maryland Department of Natural Resources, the Coastal Conservation Association Maryland and more than 30 corporations, foundations, conservation groups, outdoor recreational organizations and private individuals. Honeywell was an early supporter of the initiative.